Student from Deira International School secures first prize in Emirates NBD Poetry for All competition
March 16, 2021 – Deira International School (DIS), owned and operated by Al Futtaim Education Foundation, announced today that Jana Tamer Issa, a DIS Year 12 student, has won the first place in the Emirates NBD Poetry for All competition at Emirates Literature Festival. Jana secured the winning position in Arabic poetry in the age group between 14-18. This year's edition of the Emirates NBD Poetry for All competition attracted more than 700 participants around the UAE who competed in Arabic or English across two age groups.
Emirates NBD Poetry For All is an annual competition run by the Emirates Airline Festival of Literature to celebrate poetry performance and recital. Students learn poetry by heart and give an emotional response to the language and ideas of the poet.
This year's entrants performed individual interpretations of their favourite poems in several preliminary rounds and after nearly five months of preparations leading up to the grand finals. The first place winners in Arabic and English also repeated their winning performances on stage in front of an audience of parents, teachers, and VIPs, at the awards ceremony held at the Mohammed Bin Rashid University of Medicine and Health Sciences (MBRU).
The winner plaque was handed over to Jana by Isobel Abulhoul, OBE and CEO of Emirates Literature Festival, in the presence of HRH Sheikh Ahmed Bin Saeed Al Maktoum.
Commenting on winning the award, Jana Tamer Issa, DIS Year 12, said: "I am so grateful to have gotten the opportunity to participate in this year's Emirates Literature Festival Poetry for All in Arabic. I have always wanted to participate in a poetry competition because my grandfather was a poet and he inspired me to know more poetry. Back in October, there was an Instagram post about the competition, and I immediately felt like I wanted to register and try it out. This experience was very unique, and I really enjoyed both performing and watching very passionate performances. The competition has not only made me appreciate poetry, but it has also made me appreciate the phenomenal poets that surround us from the present and the past. It is my honour to have been the winner this year and I am grateful to everyone that helped me: my mum, Mr Yasser, my aunt and everyone who supported me. It was truly a wonderful opportunity that has helped me gain confidence and enhance my speaking skills in Arabic. I cannot wait to participate again next year."
Yasser Ghazal, Head of Arabic A at Deira International School, commented on Jana's win:  "In cooperation with the Center of Excellence for Arabic Language in Al-Futtaim Educational Foundation, we always seek to raise the level of the Arabic language and instill a love for language and literature among all students. Therefore, we have been keen to participate in this year's competition and encouraged all our students to sign up. We qualified for the finals online, reached the top ten, and now Jana has won the competition. Congratulations again to Jana – we hope her win will inspire everyone to participate in the coming years."
Simon O'Connor, School Director at Deira International School, congratulated Jana for her achievement: "We are immensely proud of Jana for winning this year's Emirates NBD Poetry for All competition. Her oratory talent has not only impressed us at Deira International School during the internal competition rounds, but also all the external judges at this year's competition. We are excited to see what lies ahead for Jana's many talents, and we are confident that Jana's impressive performance and win will inspire other students at DIS to explore poetry recital."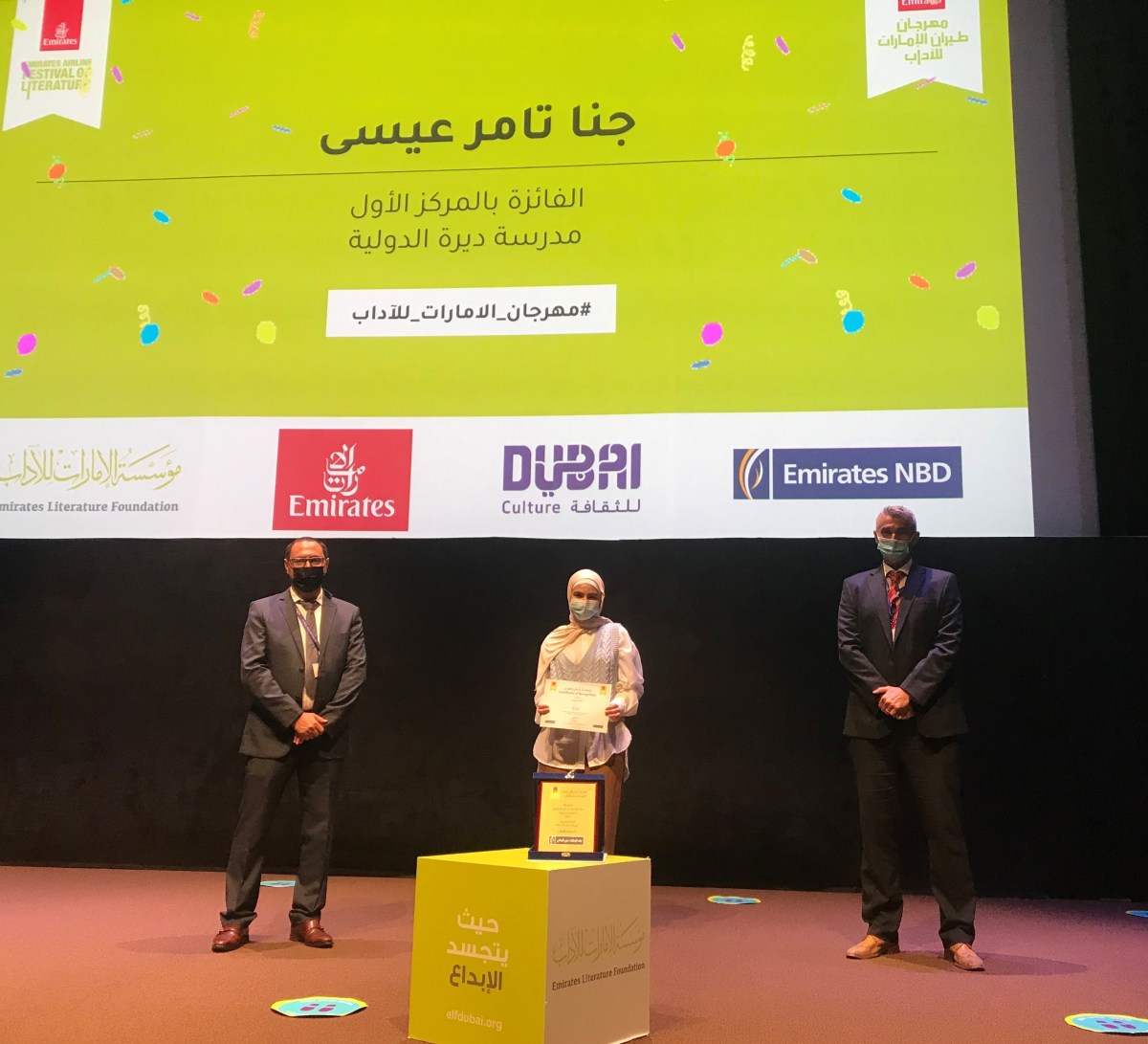 About Al-Futtaim Education Foundation
Al Futtaim Education Foundation (AFEF) was launched as an initiative of the Al Futtaim family to support the vision of the Government of Dubai and the Knowledge and Human Development Authority (KHDA) for the creation of a globally competitive economy while maximising its social contribution to the community through this not-for-profit endeavor. It aims to meaningfully impact the education scene in the UAE, the region and beyond.
The Foundation founded and now operates the Centre for Excellence in Arabic which supports the UAE Vision of ensuring that students have a solid knowledge of the Arabic language. It aims to support Arabic teaching and learning with solid, research-based tools, strategies and instruments. The Centre cultivates interest in Arabic through a focus on literature, on developing a wealth of curriculum resources, and on providing a platform for action research into the language.
AFEF owns and provides governance to Deira International School (DIS) and Universal American School (UAS), which it plans to make the leading British and American schools in the region, taking education in the UAE to the next level. The schools aim to provide the best learning environment for its students and deploy pioneering initiatives to prepare them for higher education, equipping them with the skills to excel in an increasingly globalized and technologically advanced world. The Foundation supports by bringing the highest levels of excellence to DIS/UAS through employing the best-in-class teachers who will guarantee top quality education, propelling the schools to attaining their peak potential.
About Al-Futtaim
Established in the 1930s as a trading business, Al-Futtaim today, is one of the most diversified and progressive, privately held regional businesses headquartered in Dubai, United Arab Emirates.
Structured into four operating divisions; automotive, financial services, real estate and retail; employing more than 42,000 employees in more than 20 countries in the Middle East, Asia and Africa, we partner with over 200 of the world's most admired and innovative brands.
Al-Futtaim's entrepreneurship and relentless customer focus enables the organisation to continue to grow and expand; responding to the changing needs of our customers within the societies in which we operate.
By upholding our values of respect, excellence, collaboration, integrity; Al-Futtaim continues to enrich the lives and aspirations of our customers each and every day.