Deira International School awarded for Digital Technology in Learning at The International School Awards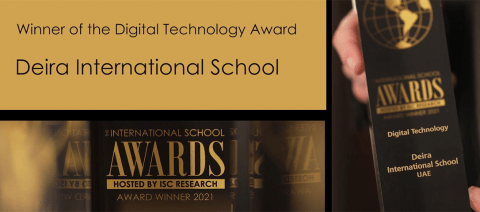 January 18, 2021 – We are delighted to announce that Deira International School (DIS) has been awarded the 'International School Awards' for 'Digital Technology in Learning'. This is testament to the outstanding work of teachers and leaders at DIS in revolutionising our digital environment and using cutting-edge pedagogy to create outstanding learning opportunities for all students, whether onsite or at learning remotely.
The International School Awards celebrate learning, teaching, community, wellbeing, leadership and strategic initiatives at international schools. They provide the opportunity for international schools to share best practice, creative endeavours, community participation, and innovation. This year, due to the impact of COVID-19 on schools throughout the world, many initiatives will have been developed to respond to the crisis. As a result, the judges are looking for initiatives that show innovation and the potential for change through adversity. The International School Awards are hosted by ISC Research with the support of International School Leader Magazine.
The Digital Technology in Learning Award recognises a digital technology initiative that has had impact on student learning and also required evidence of the development of digital responsibility. The last year has seen a huge acceleration of the need for students to be digital natives – able to use technology fluently in all that they do. This will be a crucial skill set for all students' futures.
Simon O'Connor, Director of Deira International School, commented 'I am thrilled with this recognition by such a prestigious organization. The use of digital technology is at the forefront of education development and this highlights that Deira International School is leading the way and helping to construct the future for all our students. I am enormously grateful for the hard work of all the teachers here at DIS who have seized the opportunities created by the current pandemic to continue to improve the learning opportunities for our students.'
Teachers at Deira International School have been working hard over the past 18 months towards a common goal. As part of our now award-winning digital strategy, teachers have embraced the medium of technology to enhance the already outstanding teaching that takes place. The purpose of technology in education is not simply to replace what has previously been done. Instead, technology gives us the opportunity to redefine how learning takes place. Students at Deira International School are direct beneficiaries of this digital strategy. Every day at school, students benefit from the high level of aptitude from teachers with how to use digital platforms to create the optimal learning experience for students. It is important to note that this award reflects the quality of teaching and learning through our digital provision, not our digital provision itself. As such, parents enrolling their children at Deira International School can be assured of the highest quality education. 
The use of artificial intelligence is now integrated into our school assessments, particularly in English, Maths, Science and Arabic. Teacher feedback to students is often via verbal voice notes through Microsoft OneNote. The use of verbal feedback adds significant value to the feedback process. The ability to give more depth the use of voice notes is a game-changer when it comes to facilitating student progress. Our use of Microsoft Teams, in particular the assignments and rubrics, means that students have objective and meaningful feedback based on commonly shared criteria. Part of our digital strategy includes the readiness to adapt to the ever-changing opportunities that are available to us. This means that whilst we have various integrated apps and process is, we are always looking at how to make this even better. 
A key part of our digital strategy is the leadership of our student body. Students at Deira International School have been a fundamental part of developing our vision, creating our strategy and implementing it. Students have learned about the leadership process and how to engineer change. This is being at all levels within the school.
Deira International School is part of the Al Futtaim Education Foundation and is based in Dubai Festival City. The school has been recognised for its transformational work over the past 12 months in developing its digital learning environment by the 'International School Awards'. Chosen as the winner from schools across the globe, this is testament to the outstanding vision for learning of the group and strategic implementation by the leadership.