ENCOURAGING A BRIGHTER FUTURE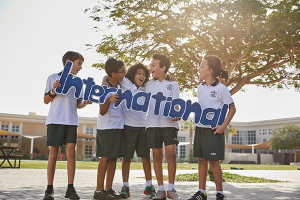 At Deira International School, Reading for pleasure is at the heart of everything we do. We celebrate and cherish books. Whole School Events such as World Book Week and House Vocabulary Day provide opportunities to share our passion for stories.

There are numerous benefits of reading for children. Beyond academia, at DIS we focus on reading as a tool to improve children's overall development. Reading for pleasure can improve student wellbeing, creativity and social skills. Reading allows us to get lost in fantastical worlds and become immersed in narratives we can only dream about.
Reading enriches our minds by allowing us to experience different people and places we have not yet been to. In addition to improving concentration and focus, books pose questions to stimulate further discussion and reflection, helping students to develop their metacognition. Reading improves logical thinking skills by allowing students to infer characters' thoughts, feelings and emotions as they turn the pages of new adventures.
At DIS, students attend weekly library sessions, focused on promoting the love of reading and development of literacy skills. Students can choose from over 15,000 books, with an extensive choice of resources in the Arabic Language. Our library is also open for parents to come and enjoy reading and choosing books with their children.
Our students have opportunities to attend author visits, book fairs, and literature events, including annual participation in the Emirates Airlines Festival of Literature competitions and author sessions.
Active Learn website is used to personalise home reading experiences for children. Each child has their own website with where teachers assign books at an appropriate reading level. All students in year 4 and above are a part of the Accelerated Reader Programme. This programme is based around the ZPD (Zone of Proximal Development) theory and provides many useful tools to assess, monitor, motivate and celebrate readers of all levels.
Reading Buddies is part of daily life at DIS. Every child has a buddy they read with each week. This helps little buddies by allowing them to hear reading fluency modelled and helps big buddies by fostering leadership and their own literacy skills. Students form new relationships and connections based on a love for books. "Reading Buddies is my favourite thing at school." – Taym, Year 2.
There are many places you can get lost in stories at DIS. Our Starbooks Café has a plethora of books and newspapers where our students unwind with a range of reading resources. Reading breakout areas are welcoming spots where you can sit back, relax and enjoy a good book.
---